The Signature Collection achieves rich contemporary styling with stained glass, metal accents, and modern glass mosaic tile meticulously arranged in dynamic designs.

FEATURES:

- Modern, eye-catching mosaic design.

- High quality materials including glass mosaic tile, american made stained glass & metal bead accents.

- Unparalleled craftsmanship - 100% Handmade.

- 1/4" thick center mirrors with optional bevel edging.

- Free material samples provided to aid clients in the material and color

  selection process.

- Sturdy hanging hardware for ultimate security and stability.

- Autographed and dated by mosaic artist Josh Hilzendeger.

Square Mirrors:

24" - $389.00

30" - $489.00

Rectangle Mirrors:

24" x 18" - $299.00

30" x 24" - $429.00

*Pricing may vary.  Shipping not included.  Shipping/packing costs range from $30.00 to $90.00 on average.

OPTIONS:

- Fully customizable - You choose colors, size, and mosaic materials from a

  wide array of choices.

- Mirror frame shape - Choose from square, round or rectangle shaped frames.


Custom, Handcrafted Mosaic Mirrors

Copyright - Josh Hilzendeger/Opus Mosaics 2013 - All Rights Reserved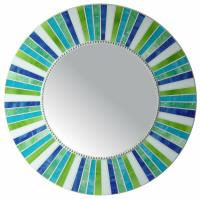 NEW!  Round Mosaic

Mirror Design.

Round Mirrors:

24" - $260.00

30" - $410.00